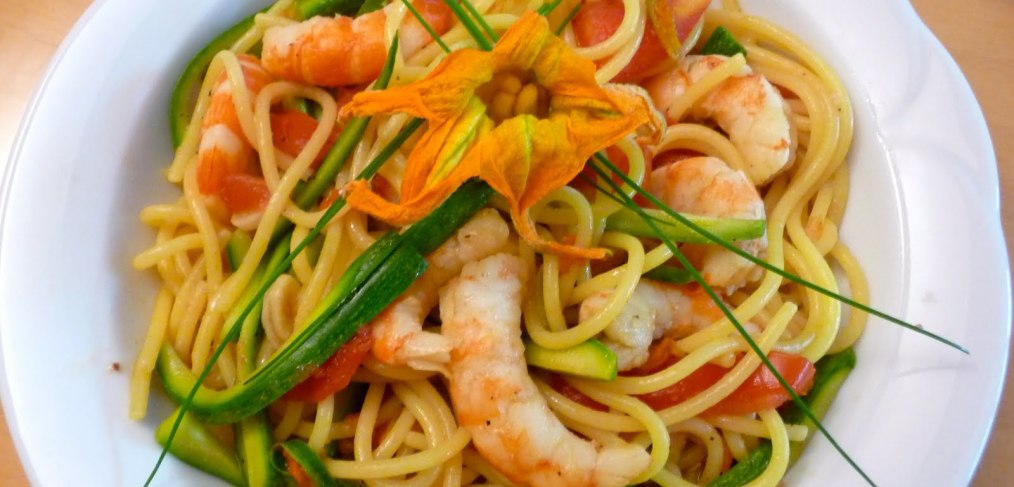 Zucchini and Shrimp Spaghetti
This is my version of one of the best dinners I had this past summer. It took place in Ristorante Eden in Rapallo, Italy. Bravo!
500 grams spaghetti or pasta of your choice
2 cloves garlic, finely chopped
500 grams cleaned shrimp tails
1 zucchini
15 cherry tomatoes cut in half
2 cups fish stock
Salt and pepper to taste
¼ cup plus 2 tablespoons extra virgin olive oil
¼ cup chopped parsley
Bring a large pot of salted water to boil. Cook pasta until 2 minutes shy of al dente.
In the meantime, heat 2 tablespoons olive oil in a large skillet over medium heat. Add garlic and cook until fragrant and beginning to color, about 30 seconds, then add zucchini and cook until lightly browned on one side, about 2 minutes. Add the shrimp to the pan and the cherry tomatoes.  Sauté until shrimp is cooked and zucchini and the tomatoes just lose its bite but are not mushy, 1-2 minutes more. Transfer the shrimp and zucchini mixture to a plate to rest.
Add the fish stock to the skillet, turn the heat to high, and reduce by at least half, until beginning to thicken. Season with salt and pepper to taste. Add the pasta to the skillet and continue cooking until the pasta is al dente and has married with the sauce, then toss olive oil. Add the shrimp and zucchini back to the skillet and season again with salt, if necessary. Finish with the chopped parsley and serve immediately.